We enjoyed the holiday weekend out in Western MN. We knew there was a chance of storms on Sunday; and with not wanting to head back to the cities any time soon in the afternoon due to all the traffic heading back in; we stuck out in Western MN waiting for the storms to fire.
The SPC had an enhanced risk out all day for this area.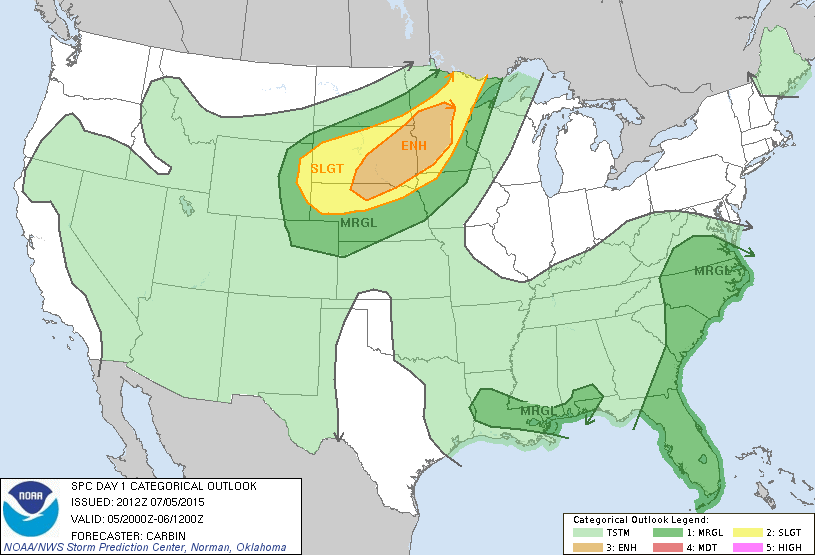 A cold front in the Dakotas was crossing and was supposed to fire off storms in the afternoon. The models kept showing the storms blowing up over Western MN. We sat waiting in the hot afternoon; full bore sun near Ortonville, MN.
We kept watch for any sign of CU to form off to the west.
Finally something popped up on radar.
We skirted across the border at Ortonville and stopped under a tunnel that went under the railroad bridge. We watched as the storm approached. We thought the hail was coming towards us; but instead it went to the south and west.
Since we saw the storm just not produce anything, we retreated back across the border to MN and started to head our way home via Hwy 12 to Hwy 9 to Hwy 55.
The lightning was weak with the storms as well.
The cold front just stalled and really did not move much at all until way late in the evening.
Below is a shot of the storm when it was near the town of Corona, SD.
The storms just could not get themselves going today with the cold front just stalling out. we headed on back to the cities the back roads as I94 was still full of slow holiday traffic.